The Relevance of God's Covenant for a Reformed Theology of Religion
Abstrak
ABSTRACT: In God's Revelation, the structure of the covenant consists of God's promises and Israels answer to them. In the covenant God has revealed Himself personally to both individuals and his chosen people. In the theology of religion developed by Hendrik Kraemer, there are two types of religion: The (prophetic) religion based on Gods revelation and the other (naturalist) religions are based on efforts to grasp the identity of his real self with divine reality, this is called as trans-empirical self realization. What is the essence of religion based on God's self revelation? God's revelation is the only source of all knowledge about true spirituality and the salvation in Christ. The Bible as the witness of God's revelation to prophets and apostles is the criterion of all religious truth. The Bible relates the history of redemption, gives a foundation to personal faith, and is the only guidebook to the life and work of the Christian community. From this starting point I try to analyze the Biblical concept of religious truth as the standard for determining religions, and to give a real answer to Gods self revelation. KEYWORDS: covenant, revelation, faith, religion.
Unduhan
Data unduhan belum tersedia.
Referensi
Packer, J.I. (2012-06-23). An Introduction to Covenant Theology (Kindle Locations 26-31).
Holy Bible, New International Version, (London: Hodder and Stoughton, 1973, and 1991).
Michael Horton, Introducing Covenant Theology (Grand Rapids: Baker, 2006).
Michael Horton, The Christian Faith, A Systematic Theology for Pilgrims on the Way (Grand Rapids: Zondervan, 2011).
G.E. Mendenhall, Law and Covenant in Israel and Ancient Near East (Pittsburgh: The Biblical Colloquium, 1955);
Meredith G. Kline, The Treaty of the Great King (Grand Rapids: Eerdmans, 1963) also The Structure of Biblical Authority (Grand Rapids: Eerdmans, 1975).
Peter J. Gentry & Stephen J. Wellum, God's Kingdom through God's Covenant (Wheaton: Crossway, 2015).
Richard J. Plantinga, c.s., An Introduction to Christian Theology (Cambridge: Cambridge University Press, 2010).
R.W. Yarbrough, "Revelation" in T. Desmond Alexander, c.s. eds, New Dictionary of Biblical Theology (Downers Grove: Inter-Varsity Press, 2000).
Cf. Louis Berkhof, Introduction to Systematic Theology (Edinburgh: Banner of Truth, 1949, 1981).
J.E. Lesslie Newbigin, A Faith For his One World (New York & Evanston: Harper & Row).
Avery Dullles, Models of Revelation (Maryknoll: Orbis Books, 2002).
Gabriel Fakre, The Doctrine of Revelation, a Narrative Interpretation (Grand Rapids: Eerdmans, 1997).
Bruce A. Demarest, General Revelation, Historical Views and Contemporary Issues (Grand Rapids: Eerdmans, 1982).
Hendrik Kraemer, The Christian Message in a non-Christian World (London: Edinburgh House Press, 1938).
Hendrik Kraemer, Religion and the Christian Faith (London: Lutterworth Press).
J. Sperna Weiland, red. Antwoord, gestalten van geloof in de wereld van nu, (Amsterdam: Meulenhoff, 1989).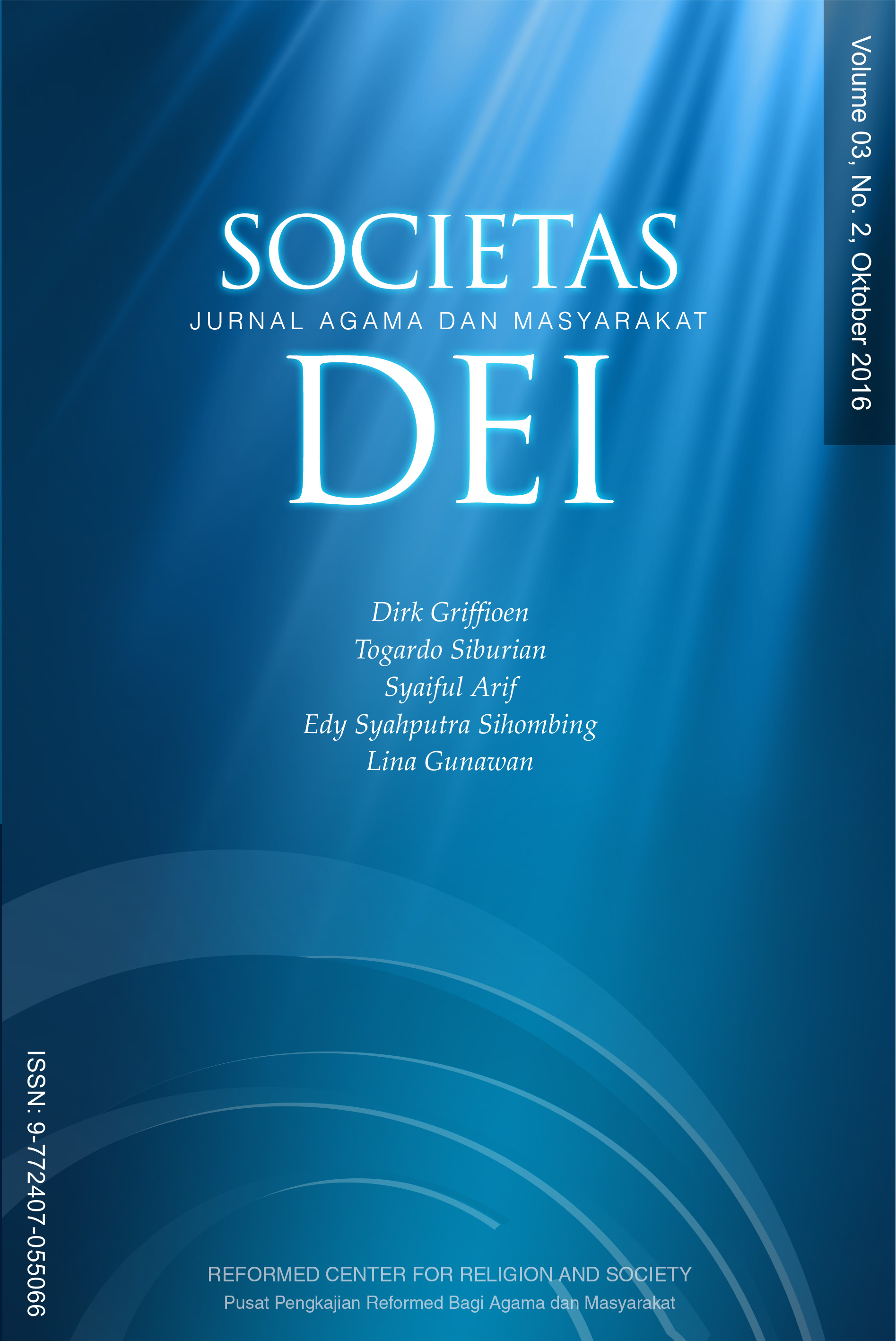 Unduhan
Cara Mengutip
Griffioen, D. (2016). The Relevance of God's Covenant for a Reformed Theology of Religion. Societas Dei: Jurnal Agama Dan Masyarakat, 3(2), 183. https://doi.org/10.33550/sd.v3i2.35
Lisensi
Hak Cipta (c) 2016 Reformed Center for Religion and Society
Artikel ini berlisensi Creative Commons Attribution-NonCommercial 4.0 International License.