Refleksi Pandemi Covid-19: Dampak Dan Peluang Membangun Peradaban Berbasis Solidaritas Global
Reflection Of Covid-19 Pandemic: The Impact And Opportunity Of Civilization Developing Based On Global Solidarity
Abstract
Even though the theme discussed in this paper is the Covid-19 pandemic, the real background is the world that behind the Covid-19 pandemic, namely, civilization which today has filled with fear, conspiracy, group interests, indifference and injustice. They are actually caused by the humans themselves. Based on this context, the author tries to show that the Covid-19 pandemic is not only a disaster but also an opportunity to lead for a new civilization of global solidarity in the world. Using the literature method (library research), this research was conducted by, first, reading the phenomenon about Covid-19 from the literature. Second, comparing it with central areas in life, and third, draws normative ethical implication which is global solidarity and theological implications in faith inspires a global solidarity movement, especially for Christians, rests on the cross and the resurrection.
Keywords: Covid-19; Civilization; Normative-Ethical Implication; Theological Implication; Global Solidarity.
Downloads
Download data is not yet available.
References
Abdullah, M. Amin. "Mendialogkan Nalar Agama dan Sains Modern di Tengah pandemi Covid-19." MAARIF 15, no. 1 (Juni 2020): 13-14.
Bhusal, Manoj Kr. "The World after Covid-19: An Opportunity for a New Beginning." International Journal of Scientific and Research Publications 10, no. 5 (May 2020): 737.
Buheji, Mohamed and Dunya Ahme. "Foresight of Coronavirus (Covid-19): Opportunities for a Better World." American Journal of Economics 10, no. 2 (March 2020): 101.
Covid-19: impact could cause equivalent to 195 million job losses, says ILO chief." UN News (8 April 2020). Diakses 21 February 2021.
Dilman, Ilham. Free Will: A Historical and Philosophical Introduction. New York: Routledge, 1999.
Fahik, Jefrino. "Pandemi, Tuhan, dan Barbarisme." LFS Cogito (24 April 2020). Diakses 16 Februari 2021. http://lsfcogito.org/pandemi-tuhan-dan-barbarisme/.
Francis, Pope. Fratelli Tutti: Encyclical on Fraternity and Social Friendship. Roma: Vatican, 2020.
Fransiskus, Fransiskus. Ensiklik Laudato Si: Tentang Perawatan Rumah Kita Bersama (penerj.) Martin Harun OFM. Jakarta: Obor, 2015.
Habermas, Jurgen. Legitimation Crisis. Oxford and Great Britain: Polity Press, 1992.
Harari, Yuval Noah. "How to Survive the 21st Century-Davos 2020." Diakses 19 Februari 2021. https://www.youtube.com/watch?v=gG6WnMb9Fho.
Harari, Yuval Noah. "The world after Coronavirus." M&A News: Global Business Buletin, ed. 60th, (April 2020), 5.
Harari, Yuval Noah. "The World After Coronavirus." Financial Time (20 Maret 2020). Diakses 13 Februari 2021. https://www.ft.com/content/19d90308-6858-11ea-a3c9-1fe6fedcca75.
Harjudin, Laode. "Dilema Penanganan Covid-19: Antara Legitimasi Pemerintah Dan Kepatuhan Masyarakat." Jurnal Kesejahteraan Dan Pelayanan Sosial 1, no. 1 (Mei, 2020): 93.
Healy, Mary. "Is the coronavirus pandemic a judgement from God?" National Catholic Register (8 April 2020). Diakses 10 Februari 2021. https://www.ncregister.com/commentaries/is-the-coronavirus-pandemic-a-judgment-from-god.
Heidegger, Martin. A Question Concerning Technology and Other Essay (trans.) William Lovit. New York: Harper & Row, 1977.
Hyun-Chul, Cho. An Ecological Vision of the World: Toward a Christian Ecological Theology for Our Age. Roma: Gregorian University Press, 2004.
Kaplan, David M. "Technology and Capitalism" dalam Jan Kyrre Berg Olsen, Stigandur Pedersen, dan Vincent F. Hendricks (eds.), A Companion to The Philosophy of Technology. West Sussex: Wiley-Blackwell Publishing Ltd., 2009.
Kumar, Satish. Soil, Soul, Society (A New Trinity for Our Time). United Kingdom: Leaping Hare Press, 2015.
Maliki, Musa. "Covid-19, Agama, dan Sains." MAARIF 15, no. 1 (Juni 2020): 82.
Moltmann, Jurgen. Theology of Hope. Munich: SCM Press Ltd, 1965.
Nasr, Seyyed Hossein. Islamic philosophy from its origin to the present: Philosophy in the land of prophecy. USA: State University of New York Press, 2006.
Nasution, Dito Aditia Darma, Erlina dan Iskandar Muda. "Dampak pandemi Covid-19 terhadap Perekonomian Indonesia." Jurnal Benefita 5, no. 2 (Juli 2020): 214.
Oxfam. "Half a billion people could be pushed into poverty by coronavirus, warns Oxfam." Oxfam International (9 April 2020). Diakses 21 Februari 2021. https://www.oxfam.org/en/press-releases/half-billion-people-could-be-pushed-poverty-coronavirus-warns-oxfam.
Portal Resmi Provinsi Jawa Tengah. "Tak Patuhi Protokol Kesehatan, Pelanggar Dijatuhi Sanksi Kerja Sosial." Portal Resmi Provinsi Jawa Tengah (10 September 2020). Diakses 13 Maret 2021. https://jatengprov.go.id/beritadaerah/tak-patuhi-protokol-kesehatan-pelanggar-dijatuhi-sanksi-kerja-sosial/.
Prawiro, M. "Arti Komitmen: Memahami Apa Itu Komitmen, Ciri-ciri, dan Contoh Komitmen." (13 Agustus 2020). Diakses 14 Maret 2021. https://www.maxmanroe.com/vid/sosial/arti-komitmen.html.
Putra, Andreas Maurenis. "Konsumerisme: "Penjara" Baru Hakikat Manusia?" Societas Dei 5, no. 1, (April 2018): 91.
Sharfuddin, Syed. "The world after Covid-19." The Commonwealth Journal of International Affairs 109, no. 3 (June 2020): 253.
Sugiharto, Bambang. "Keadaban Baru." Kompas. 7 Agustus 2020.
Tomasini, Floris. "Solidarity in the Time of Covid-19?" Cambridge Quarterly of Healthcare Ethic Journal 30, no. 1 (January 2021): 2.
Toresano, Wa Ode Zainab Zilullah. "Integrasi Sains dan Agama: Meruntuhkan Arogansi di Masa pandemi Covid-19." MAARIF 15, no. 1 (Juni 2020): 233.
UN News. "UN launches Covid-19 plan that could 'defeat the virus and build a better world." UN News (31 March 2020). Diakses 21 Februari 2021. https://news.un.org/en/story/2020/03/1060702.
Zed, Mestika. Metode Penelitian Kepustakaan. Jakarta: Yayasan Obor, 2008.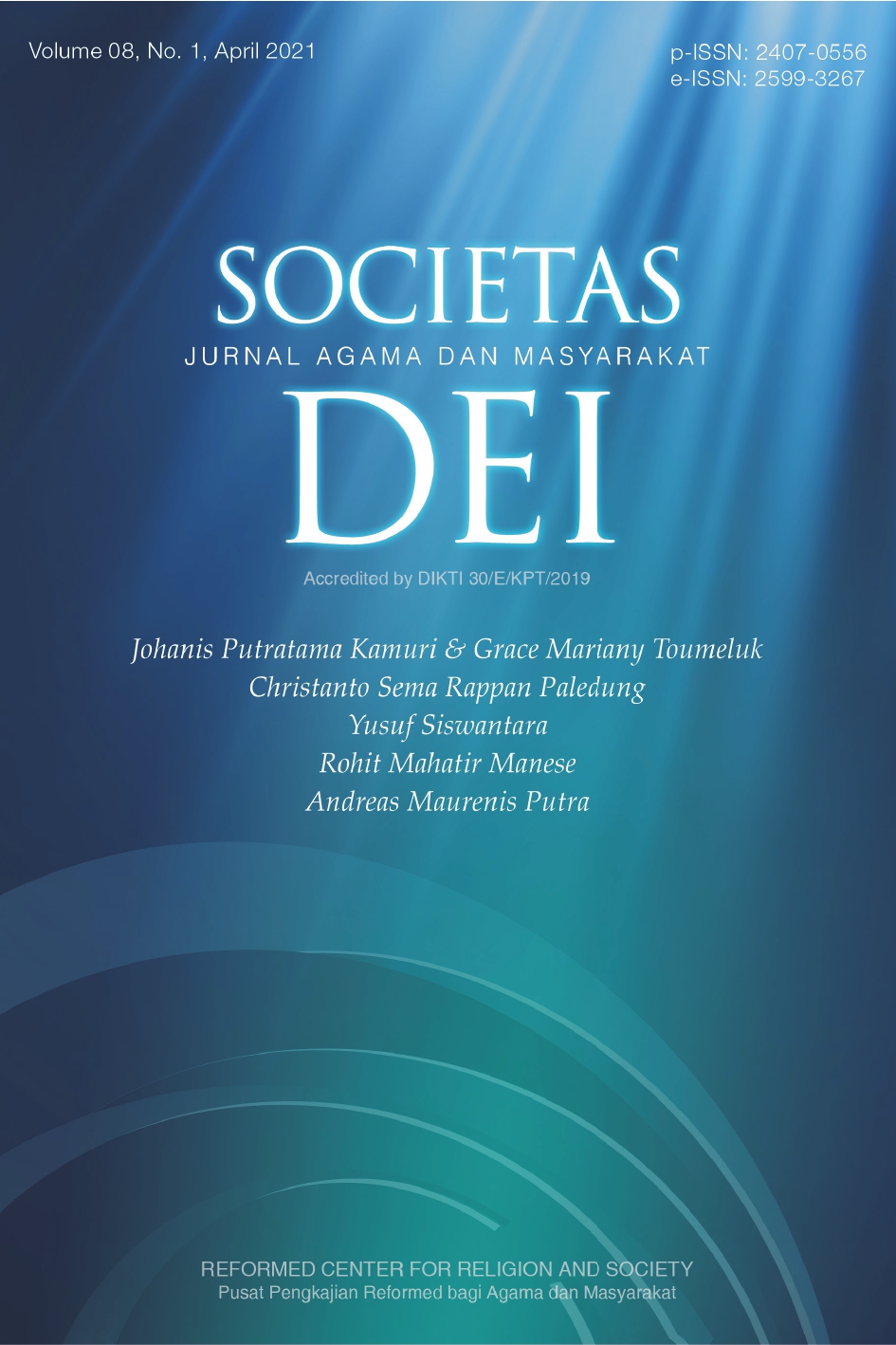 Downloads
How to Cite
Putra, A. M. (2021). Refleksi Pandemi Covid-19: Dampak Dan Peluang Membangun Peradaban Berbasis Solidaritas Global: Reflection Of Covid-19 Pandemic: The Impact And Opportunity Of Civilization Developing Based On Global Solidarity. Societas Dei: Jurnal Agama Dan Masyarakat, 8(1), 109–135. https://doi.org/10.33550/sd.v8i1.224
License
Copyright (c) 2021 Reformed Center for Religion and Society
This work is licensed under a Creative Commons Attribution-NonCommercial 4.0 International License.