Makna Kisah Panggilan Para Murid Yesus Bagi Metode Pendidikan Agama Kristen
The Meaning Of Jesus Disciples' Vocation For The Christian Education Method
Abstract
Jesus is a teacher who sets an example of His teaching to the disciples. The story of the early disciples' vocation provides evidence that Jesus is expertise in personal development. This fact is a moral criticism issue that is not in line with religious values and a challenge to Christian religious education which means the Church work in the educational issue. Through a library research approach, this study aims to explore the pedagogical meaning and methods of Christian religious education in vocational stories (Matthew 4: 18-22, Markus. 1: 16-20, Luke 5: 1-14). The focus is on the pedagogical meaning, methodology and implementation of the teachings of Jesus in the vocational story. The result is an imaginative analogy, a term that affirms the educational meaning of Christian religious and educational methodology where the experience (in the light of) faith is accompanied by acts that are much more effective in Christian religious education.
Keywords: Pedagogy; Educational Methods; Christian Religious Education; Disciples of Jesus. 
Downloads
Download data is not yet available.
References
Alfian Dwi Primantoro. "Pendidikan Nilai Moral Ditinjau dari Perspektif Global." JPK: Jurnal Pancasila dan Kewarganegaraan 1, no. 1 (2016): 1–8.
Alvira, Mirza, Nur Hidayah, dan Chusniah. "Penerapan Model Analogi untuk Melatih Keterampilan Berpikir Kreatif Calon Konselor." Jurnal Pendidikan 4, no. 1 (2016): 758–764.
Dictionary American Psychological Association Online. "Aha Experience." diakses 26 Maret 2021. https://dictionary.apa.org/aha-experience.
Astika, Made, dan Selvianty Sari Bunga. "Hubungan Kompetensi Sosial Guru Kristen terhadap Perkembangan Karakter Siswa: Tantangan Pendidikan Kristen dalam Mencerdaskan Youth Generation." Jurnal Jaffray 14, no. 1 (2016): 63. https://doi.org/10.25278/jj71.v14i1.189.
Boiliu, Ibrahim, Aeron Frior Sihombing, Christina M Samosir, dan Fredy Simanjuntak. "Mengajarkan Pendidikan Karakter Melalui Matius 5: 6-12." KURIOS: Jurnal Teologi dan Pendidikan Agama Kristen 6, no. 1 (2020): 61–71.
Bryan Magee. The Story of Philosophy. London: Dorling Kindersly Limited, 2001.
D.A Kolb. Experiential Learning: Experience as Th e Source of Learning and Development. New Jersey: Prentice-Hall, Inc, 1984.
Danek, Amory H., and Carola Salvi. "Moment of Truth: Why Aha! Experiences Are Correct." Journal of Creative Behavior 54, no. 2 (2020): 484–486. https://doi.org/10.1002/jocb.380.
F. Budi Hardiman. "Seni Memahami Hermeneutik dari Schleiermacher sampai Derrida." Yogyakarta: Kanisius, 2015.
England, M. "Teaching Methods of Jesus." Thesis, (2014).
Fønnebø, L. A Grounded-Theory Study of the Teaching Methods of Jesus : An Emergent Instructional Mode. Graduate Research 1, (2011): 32–41.
McCoy, J. W. The teaching methods of Jesus. The Journal of Biblical Foundations of Faith and Learning 1, no. 1 (2016): 1–16. https://knowledge.e.southern.edu/jbffl/vol1/iss1/9.
Haryatmoko. "Analogi Permainan Ricoeur dalam Imajinasi Sastra: Imajinasi Melampaui Sangkar Moral." BASIS 13–18 (2005): 1–12.
Kadarmanto, Mulyo. "Mengkaji Revolusi Mental dalam Perspektif Pendidikan Kristen." Polyglot: A Journal of Language, Literature, Culture, and Education 12, no. 1 (2016): 103–118. https://ojs.uph.edu/index.php/PJI/article/view/388.
Kama Abdul Hakam. Model Pembelajaran Pendidikan Nilai. Bandung: CV. Yasindo Multi Aspek, 2010.
KBBI. "Kamus Besar Bahasa Indonesia." KBBI. 2020. https://kbbi.web.id/analogi.
Ignatian Spirituallity. "Discernment of Spirits." Loyola Press, 2020. https://www.ignatianspirituality.com/making-good-decisions/discernment-of-spirits/.
Luc Besson. The Messenger: The Story of Joan of Arc (Film), 1999.
Markes, Karlito D. "Living Values Education dan Implikasinya bagi Pendidikan Agama Kristen." Manna Rafflesia 6, no. 2 (2020): 220–40. https://doi.org/10.38091/man_raf.v6i2.120.
Maslow, Abraham H. Religion, Value, and Peak-Experiences. Columbus: Ohis State University Press, 1964.
Nata, Abuddin. "Peran Pemuda dalam Sektor Pendidikan." UIN Jakarta. 2020. uinjkt.ac.id.
Panuntun, Daniel Fajar, dan Eunike Paramita. "Hubungan Pembelajaran Alkitab terhadap Nilai-Nilai ( Kelompok Tumbuh Bersama Kontekstual )." Gamaliel : Teologi Praktika 1, no. 2 (2019): 104–115.
Presiden Republik Indonesia. "Undang-Undang Republik Indonesia Nomor 12 Tahun 2012 tentang Pendidikan Tinggi." 2012.
Saptorini, Sari. "Pemanggilan Murid Secara Sengaja Berdasarkan Teladan Tuhan Yesus." PASCA : Jurnal Teologi Dan Pendidikan Agama Kristen 15, no. 1 (30 November 2019): 35–43. https://doi.org/10.46494/psc.v15i1.67.
Setiawan, David Eko. "Kelahiran Baru di Dalam Kristus Sebagai Titik Awal Pendidikan Karakter Unggul." Evangelikal: Jurnal Teologi Injili Dan Pembinaan Warga Jemaat 3, no. 2 (2019): 154. https://doi.org/10.46445/ejti.v3i2.135.
Shen, Wangbing, Yu Tong, Yuan Yuan, Huijia Zhan, Chang Liu, Jing Luo, and Houde Cai. "Feeling the Insight: Uncovering Somatic Markers of the 'Aha' Experience." Applied Psychophysiology Biofeedback 43, no. 1 (2018): 13–21. https://doi.org/10.1007/s10484-017-9381-1.
Sidjabat, Binsen S. "Penguatan Guru PAK untuk Pendidikan Karakter." Evangelikal: Jurnal Teologi Injili Dan Pembinaan Warga Jemaat 3 (2019): 30–48.
Sidjabat, Binsen Samuel. "Kerangka Kurikulum Pendidikan Agama Kristen Berbasis Karakter Di Perguruan Tinggi Character-Based Christian Religious Education Curriculum Framework in Higher Education." Jurnal Jaffray 17, no. 1 (2019): 73–90. https://doi.org/10.25278/jj.v17i1.314.
Silberman, Bel. Handbook of Experiential Learning. Pfeiffer I. San Francisco: Pfeiffer, 2007.
Siburian, T. "Perspektif Kristologis Mengenai "Yesus Guru Agung"." Jurnal Teologi Stulos 2 (Juli 2018): 179–206. http://sttb.ac.id/download/stulos/stulos-v16-no02/Stulos-Vol16-No-2-Perspektif Kristologis Mengenai Yesus Guru Agung.pdf.
Siswantara, Yusuf. "Keutamaan Kritik Teks Atas Naskah Sewaka Darma." Research Report-Humanities and Social Science Journal, UNPAR, 2015. http://download.garuda.ristekdikti.go.id/article.php?article=1408003&val=3914&title=KEUTAMAAN Kritik Teks Atas Naskah Sewaka Darma.
Siswantara, Yusuf. "Sewaka Darma: Pembelajaran Keutamaan Kehidupan Dan Implikasi Pedagogisnya." MELINTAS, 2016. https://doi.org/10.26593/mel.v32i1.1925.46-72.
Stevens, G. B. "The Teaching of Jesus. II. The Methods of His Teaching." The Biblical World 5, no.2 (1895): 106–113. The University of Chicago Press. https://www.jstor.org/stable/3135144.
Stokes-Eley, Stephanie. "Using Kolb's Experiential Learning Cycle in Chapter Presentations." Communication Teacher 21, no. 1 (2007): 26–29. https://doi.org/10.1080/17404620701211584.
Sunarko, Andreas Sese. "Implikasi Keteladanan Yesus Sebagai Pengajar bagi Pendidikan Kristen yang Efektif di Masa Kini." REGULA FIDEI: Jurnal Pendidikan Agama Kristen 5, (September 2020): 118–131.
Tafonao, Talizaro. 2019. "Penerapan Strategi Pengajaran Tuhan Yesus Terhadap Pencapaian Tujuan Pendidikan Agama Kristen." AgriXiv. July 25. doi:10.31220/osf.io/a4b76.
Tarigan, Musa Sinar. "Implikasi Penebusan Kristus dalam Pendidikan Kristen [the Implication of Christ'S Redemption on Christian Education]." Polyglot: Jurnal Ilmiah 15, no. 2 (2019): 203. https://doi.org/10.19166/pji.v15i2.1409.
Telaumbanua, Arozatulo. "Peranan Guru Pendidikan Agama Kristen dalam Membentuk Karakter Siswa." FIDEI: Jurnal Teologi Sistematika Dan Praktika 1, no. 2 (2018): 219–231. https://doi.org/10.34081/fidei.v1i2.9.
Hanifah, Umi, Ronggo Alit, and Sugiarto Sugiarto. "Penggunaan Metode Black Box Pada Pengujian Sistem Informasi Surat Keluar Masuk." SCAN - Jurnal Teknologi Informasi Dan Komunikasi 11, no. 2 (2016): 33–40. http://ejournal.upnjatim.ac.id/index.php/scan/article/view/643.
KBBI. "Kamus Besar Bahasa Indonesia." KBBI. 2020. https://kbbi.web.id/propaganda.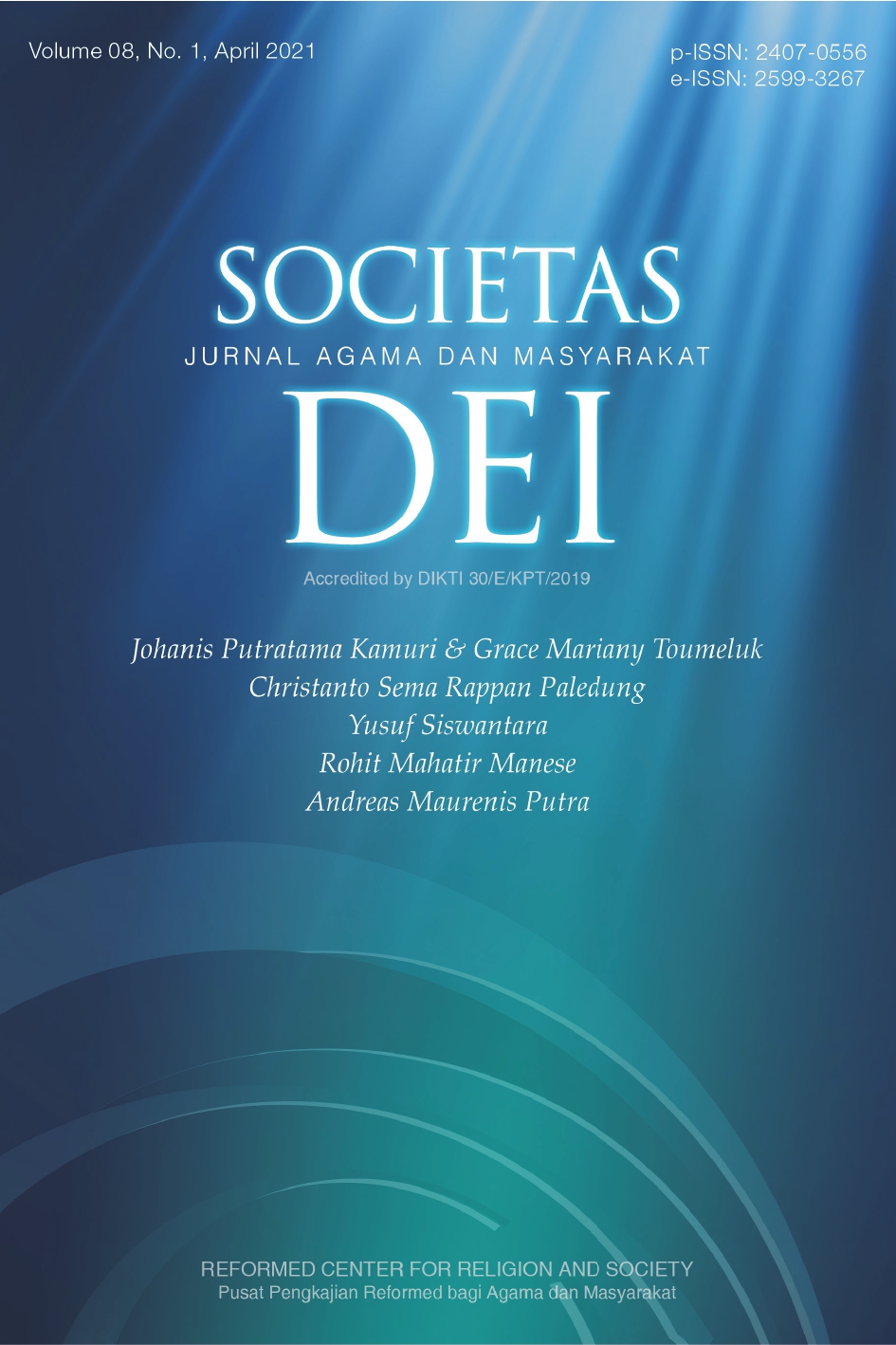 Downloads
How to Cite
Siswantara, Y. (2021). Makna Kisah Panggilan Para Murid Yesus Bagi Metode Pendidikan Agama Kristen: The Meaning Of Jesus Disciples' Vocation For The Christian Education Method. Societas Dei: Jurnal Agama Dan Masyarakat, 8(1), 57–84. https://doi.org/10.33550/sd.v8i1.197
License
Copyright (c) 2021 Reformed Center for Religion and Society
This work is licensed under a Creative Commons Attribution-NonCommercial 4.0 International License.