Meretas Makna Post-Truth: Analisis Kontekstual Hoaks, Emosi Sosial dan Populisme Agama
Abstract
Post-Truth sedang jadi gejala mutakhir secara global. Fenomena ini membawa serta tiga gejala yakni hoaks, emosi sosial dan populisme agama. Para aktornya memakai fasilitas demokrasi untuk tujuan-tujuan kepentingan kelompoknya. Kerap anti-demorasi. Gerakan ini mendestabilisasi negara demokrasi dengan strategi disinformasi lewat media sosial untuk menerjang prosedur. Ciri khas komunikasi politiknya adalah demagogi. Aktornya adalah demagog. Mereka melakukan gerakan samar atas nama demokrasi dengan alibi kebebasan berpendapat. Strateginya makin canggih bersamaan dengan era revolusi teknologi media sekaligus disrupsi teknologi terhadap budaya hidup suatu bangsa. Tulisan ini merupakan catatan kritis mengenai gelombang isu-isu kontekstual yang mewarnai demokrasi bangsa kita hari-hari ini.
KATA-KATA KUNCI: Post-Truth, hoaks, emosi sosial, populisme agama, demagogi, demagog, revolusi teknologi, media sosial.
Downloads
Download data is not yet available.
References
Agus Sudibyo, Agus. Jagat Digital: Pembebasan dan Penguasaan. Jakarta: Kepustakaan Populer Gramedia, 2019.
Arendt, Hannah. Le systeme Totalitaire. Paris: Seuil, 1972.
Armada Riyanto CM, FX. Relasionalitas. Filsafat Fondasi Interpretasi: Aku, Teks, Liyan, Fenomen. Yogyakarta: Penerbit Kanisius, 2018.
Betz, Georg dan Carol Johnson dalam Marzouki, Nadia, Duncan McDonell & Oliver (ed). Saving The People: How Populist Hijack Religion. Oxford: Oxford university Press, 2016.
Schmidt, Eric & Jared Cohen. Era Baru Digital. Jakarta" Kepustakaan Populer Gramedia, 2014.
Haidt, Jonathan. The Righteous Mind: Why Good People are Divided by Politic and Religion. New York: Vintage Books, 2012.
Haryatmoko, J. Dominasi Penuh Muslihat: Akar kekerasan dan Diskriminasi. Jakarta: Gramedia Pustaka Utama, 2010.
Keyes, Ralph. The Post-Truth Era: Dishonesty and Deception in Contemporary Life. New York: St. Martin's Press, 2004.
Magnis Suseno, Franz. Toleransi dan Budi Luhur. dalam: ''Meluhurkan Kemanusiaan,'' kumpulan esai untuk A. Sudiarja, Jakarta: Penerbit Buku Kompas, 2018.
McIntyre, Lee. Post-Truth. Massachusetts: MIT Press, 2018.
Nichols,Tom. The Death of Expertise. Oxford: Oxford University Press, 2017.
Suwignyo, Agus (ed.). 2019. Post-Truth dan Anti Pluralisme. Jakarta: Penerbit buku Kompas.
Majalah Basis, ''Populisme Di Tangan Demagog," Nomor 05-06, tahun ke-66, 2017.
Majalah Basis, ''Populisme: Ideologi Mengambang,'' Nomor 07-08, tahun ke-68 2019.
Majalah Basis, "Kritik Sekolah Frankfurt,''No.05-06, Tahun ke-68, 2019.
Majalah Prisma, ''Bangkitnya Populisme dan Krisis Demokrasi,'' Vol. 36, No. 3, tahun 2017.
Seminar & Diskusi Publik
F Budi Hardiman, ''Menemukan Kebenaran Hukum di Era Post-Truth,''Keynote Speaker: Seminar Nasional AFHI, Mataram, 24-27 Juni 2019.
Haryatmoko, ''Era Post-Truth: Hoax, Disinformasi, dan Emosi Sosial,'' KAFFE, Jurnal Perempuan, 22/03/2018.
Diskusi Publik bertajuk, ''Etika Media Sosial di Era Post-Truth dan Disrupsi Informasi,'' Yogyakarta 12 Desember 2018.
Kuliah Umum LSF bertajuk, "Post-Truth Era: Hoax, Disinformasi, dan Populisme Untuk Emosi Sosial,'' Fakultas Filsafat UGM, 21 Desember 2017.
Setiaji Setyo Nugroho, dalam Ceramah di Universitas Ciputra Surabaya, 10 maret 2018.
Haryatmoko, ''Refleksi Filosofis Terhadap ''Populisme Agama'' Pasca Reformasi,'' Seminar Nasional 50 Tahun Fakultas Filsafat UGM, 22 Desember 2017.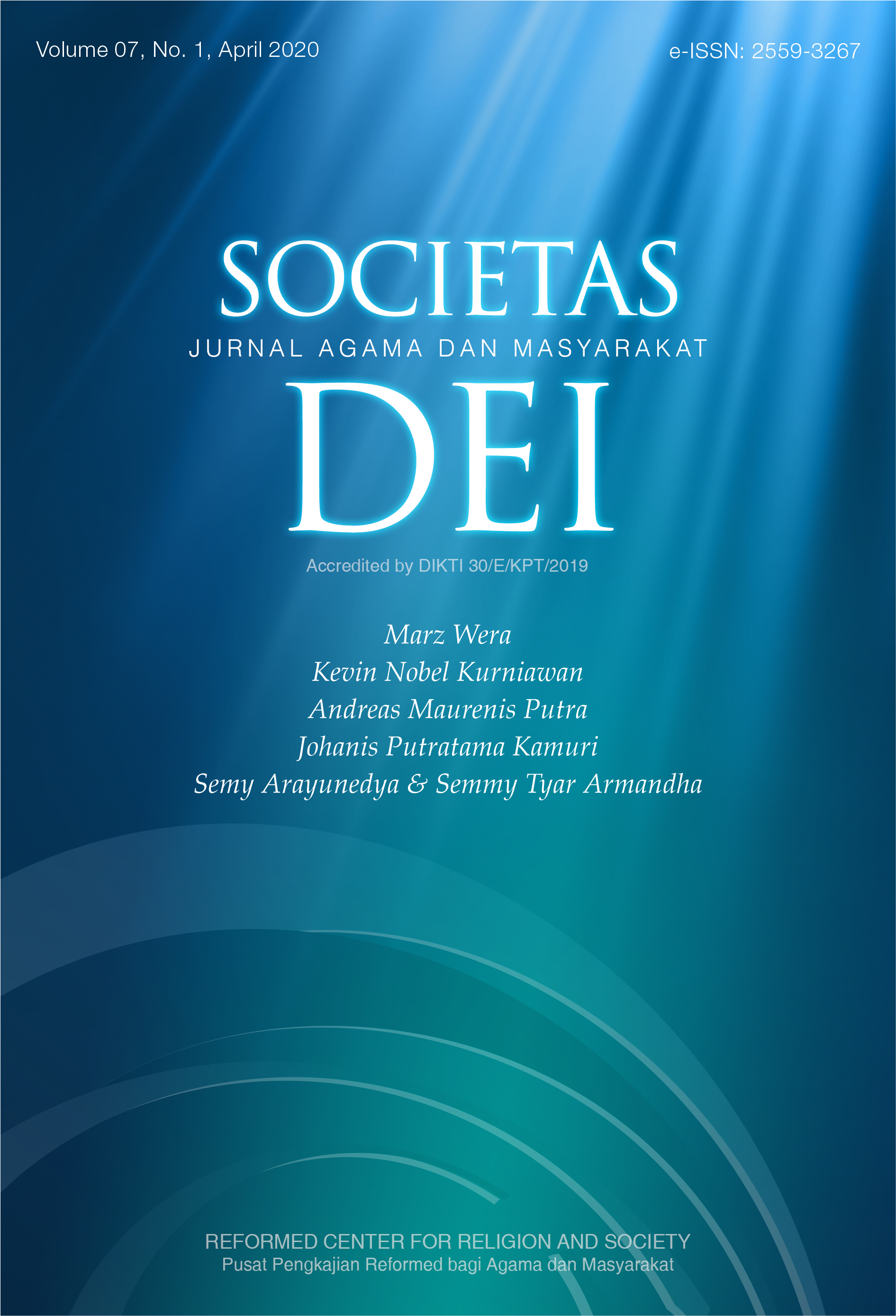 Downloads
How to Cite
Mofferz, M. W. (2020). Meretas Makna Post-Truth: Analisis Kontekstual Hoaks, Emosi Sosial dan Populisme Agama. Societas Dei: Jurnal Agama Dan Masyarakat, 7(1), 3. https://doi.org/10.33550/sd.v7i1.141
License
Copyright (c) 2020 Reformed Center for Religion and Society
This work is licensed under a Creative Commons Attribution-NonCommercial 4.0 International License.