Perempuan dan Kebebasan: Sebuah Eksplorasi Atas Legenda Jaka Tarub
Abstract
Artikel ini merupakan sebuah eksplorasi untuk menemukan pesan-pesan pembebasan bagi kaum perempuan berdasarkan cerita rakyat, "Jaka Tarub dan Tujuh Bidadari." Meskipun bukan merupakan telaah yang sempurna tetapi sangat cukup untuk memberi pemahaman tentang polemik peradaban, yang senantiasa menjadi topik hangat untuk diperbincangkan. Masalah gender adalah masalah manusia global dan lokal. Masalah ini terus-menerus diperdebatkan dan diperbincangkan terutama oleh kaum perempuan yang menuntut penghargaan atas kualitas manusia secara seimbang. Legenda "Jaka Tarub dan Tujuh Bidadari" menjadi kunci untuk membedah konteks masyarakat dulu dan sekarang tentang masifnya persoalan gender (terutama karena kuatnya budaya patriarki) yang kemudian menyulut aneka bentuk gerakan perempuan untuk merekonstruksi prinsip keseimbangan, karena pada dasarnya, manusia adalah citra Allah. Menggunakan metode analisis teks, artikel ini menyajikan sebuah cara pandang baru bahwa perempuan, sebagaimana laki-laki, berhak mengekspresikan talenta-talentanya dalam membangun dunia menjadi lebih baik.
KATA-KATA KUNCI: legenda, patriarki, perempuan, egaliter, kerja sama.
Downloads
Download data is not yet available.
References
Barth-Frommel, Marie Claire. Hati Allah Bagaikan Seorang Ibu. Jakarta: BPK Gunung Mulia, 2006.
Bordwell, David. Catechism of the Catholic Church. London & New York City: Continuum International Publishing, 2002.
Daly, Mary.Beyond God the Father, Toward a Philosophy of Women's Liberation. Massachusetts: Beacon Press, 1973.
Fiorenza, Elizabeth Schϋssler. "The Will to choose or to Reject: Continuing Our Critical Work", dalam Feminist Interpretation of the Bible(ed.) Letty M. Russell (Philadelphia: The Westminster Press, 1985.
Gamble,Sarah. "Postfeminism", The Routledge Companion to Feminism and Postfeminism, ed. SarahGamble, London and New York: Routledge, 2006.
Handayani, Christina S. &Ardhian Novianto, Kuasa Wanita Jawa. Yogyakarta: LKIS, 2004.
Hooks, Bell.Feminism is for Everybody: Passionate Politics. New York: Routledge, 2014.
Kartini, R.A. Door Duisternis tot Licht (Habis Gelap Terbitlah Terang). Yogyakarta: Narasi, 2011
Kourany, Janet A. Philosophy of Science After Feminism. New York: Oxford University Press, 2010.
Kusmayadi, Ismail. Think Smart Bahasa Indonesia. Bandung: Grafindo Media Pratama, 2007.
Kwok,Pui Lan. Discovering the Bible in the Non-Biblical World. New York, Maryknoll: Orbis Books, 1995.
Muslikhati, Siti. Feminisme dan Pemberdayaan Perempuan dalam Timbangan Islam. Jakarta: Gema Insani Press, 2004.
Natar, Asnath Niwa. Ketika Perempuan Berteologi: Berteologi Feminis Kontekstual. Yogyakarta: Taman Pustaka Kristen, 2012.
Pranoto, Minggus M. "Selayang Pandang Tentang Teologi Feminis dan Metode Berteologinya", Abdiel 2 (1) 2018.
Ramadhani, Deshi. Lihatlah Tubuhku: Membebaskan Seks bersama Yohanes Paulus II. Yogyakarta:Kanisius, 2009.
Ritzer, George. The Blackwell Encyclopedia of Sociology. Massachusetts: Blackwell Publishing, 2007.
Russell, Letty Mandeville.(ed)Feminist Interpretation of the Bible. London: Westminster John Knox Press, 1985.
_______Household of Freedom, Authority in Feminist Theology. Philadelphia: Westminster Press, 1987.
Samho, Bartolomeus (peny.). Agama dan Kesadaran Kontemporer. Yogyakarta: Kanisius, 2019.
Wibowo, Robi. Nalar Jawa Nalar Jepang. Yogyakarta: Gadjah Mada University Press, 2017.
Pokok ke-4 dalam Audiensi Umum Paus Yohanes Paulus II pada Rabu, 20 Februari 1980. Judul tulisannya "Man Enters the World as a Subject of Truth and Love"; https://www.ewtn.com/library/PAPALDOC/jp2tb18.htm (diakses tanggal 28 Januari 2020).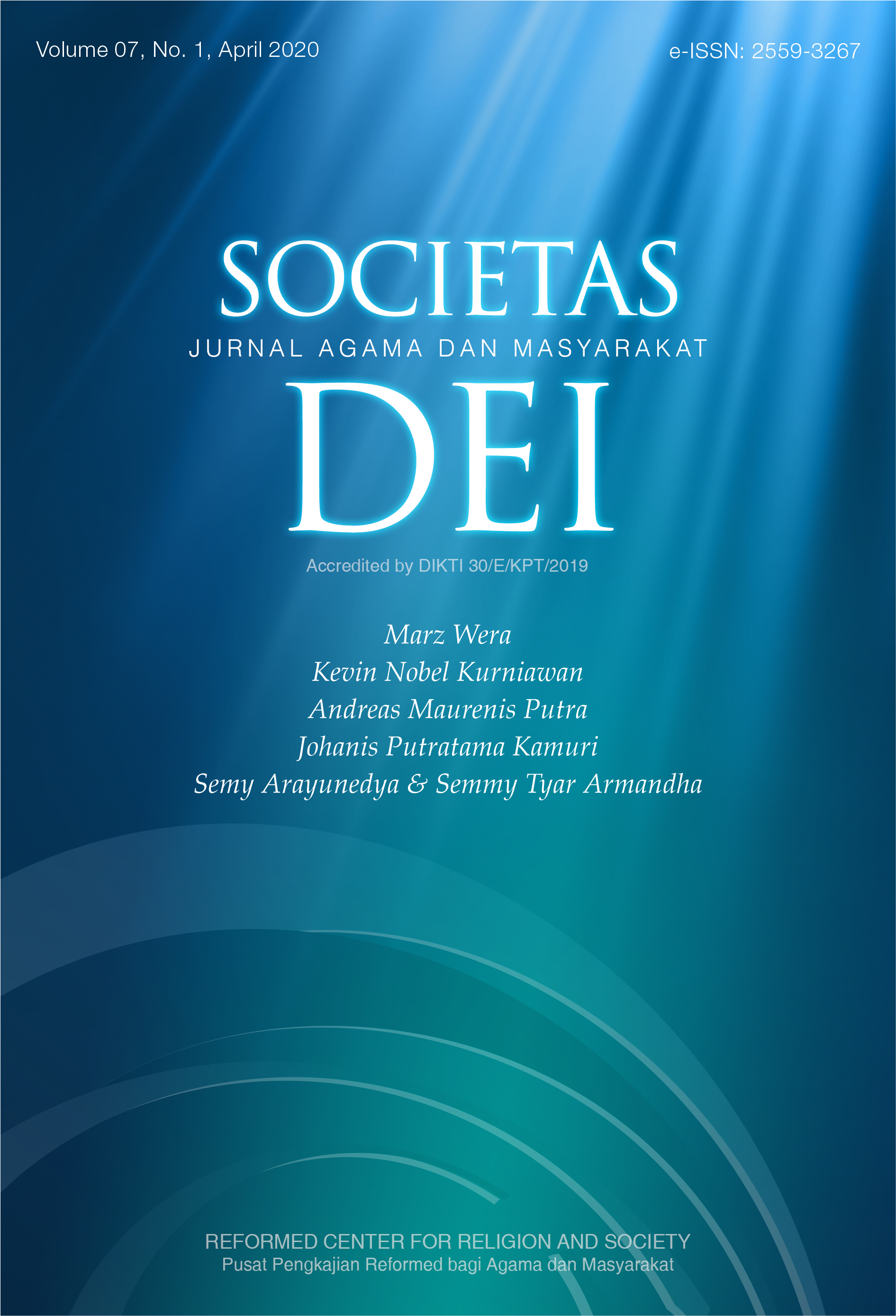 Downloads
How to Cite
Putra, A. M. (2020). Perempuan dan Kebebasan: Sebuah Eksplorasi Atas Legenda Jaka Tarub. Societas Dei: Jurnal Agama Dan Masyarakat, 7(1), 55. https://doi.org/10.33550/sd.v7i1.139
License
Copyright (c) 2020 Reformed Center for Religion and Society
This work is licensed under a Creative Commons Attribution-NonCommercial 4.0 International License.